Food Not Lawns and Wild Urban Gardeners! 
Food Not Lawns creates useful biodiverse environments to grow food and native plants and trees instead of lawns. The network of people consists of those with gardening and farming experience and those with land.  Beyond simply tearing up lawns to plant potatoes, for example, Food Not Lawns offers tool lending, seed sharing, compost, greenhouse building and educational information.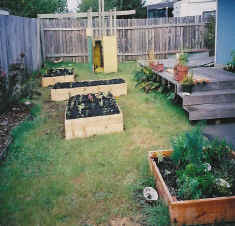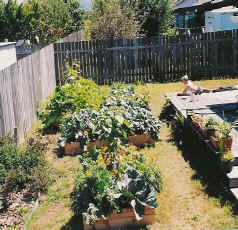 Before                                        After
In Arcata, Humboldt County, Calif., Food Not Lawns follows in the footsteps of originators in Eugene.  Depaver Jan grew potatoes and parsnips in his front yard, as root crops are not as dangerous for human consumption as other kinds of crops when we consider toxic car fumes.  This is part of our spreading awareness of petroleum-based food production and distribution.  This context for growing food within neighborhoods, with no gasoline- or diesel-delivery, provides relevance for today's historic crisis of energy.  
It was lawn conversions and depaving upon which the Victory Gardens of World War II were based.  Food, not lawns!  Can you dig it?  No need for motors!  Get your bike carts tuned!
Begun in the radical town of Eugene, Oregon, Food Not Lawns turned lawns into food gardens.  Now, in Arcata, northern California, activists and students have started a group effort to do more than convert a few lawns into gardens.  
To email Food Not Lawns in Eugene, Oregon, email 
foodnotlawns@yahoo.com
Website can be reached through
 Food Not Lawns, Eugene, Oregon 

For an essay on Food Not Lawns on the Economads website, see http://libaware.economads.com/fnldigit.php
For Culture Change Letter editions on food security and land use, see Archive.
See Jan VanderTuin's Center for Appropriate Transport website